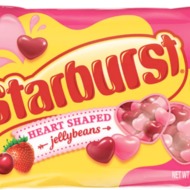 I hate to say it, but now that Christmas is over, you can start expecting the aisles at your supermarket and drugstores to turn pink and red. Valentine's Day is a month-and-a-half away, which means the candy and stuffed animals are coming. In some places, they've already arrived. The junk food Instagram Candy Hunting posted about spotting 
Starburst heart-shaped jellybeans. Sorry, heart-shaped chocolates, but your time is almost up.
Along with a photo of the jellybeans, Candy Hunting wrote in the caption, "Christmas is over, so on to the next food holiday! Found these new Starburst Heart Shaped Jellybeans at Rite-Aid." The jellybeans are red and pink, with red being cherry-flavored and pink being strawberry. As one of the commenters on the Candy Hunting account says, they are "so cute!" but also as another commenter says, it is, arguably, "too early".
While Starburst has long made jellybeans, this appears to be the first time they're releasing these exact ones. Previously, Starburst has had a Valentine's Day tube with pink jellybeans, as well as FaveREDs jellybeans that included a variety of flavors of red candies.
The Starburst heart jellybeans aren't the only Valentine's Day product Candy Hunting has already seen hitting shelves. The account also posted about Lava Cake Hershey's Kisses, which they say were spotted at Rite-Aid and CVS so far. (They're also available at Walmart.) Then, there's Love, Oreos, which have a pink filling that is described as "sweet and tangy" — and they come with stickers.
While it doesn't seem that the Starburst heart-shaped jellybeans are available online just yet — although there is a listing for them at Target, so you can probably find them in-store — there are a number of similar products out there for anyone who can't wait for Valentine's Day or just really loves pink and red candies.