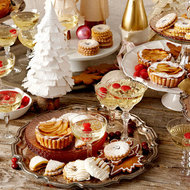 Americans can gain up to 2 pounds during the holiday season, according to researchers.
While that may not sound like much, researchers said that can add up over the years.
There are a few ways to curb it, however.
The Academy of Nutrition and Dietetics suggests not saving an appetite for a big holiday party or feast.
It said skipping meals during the day could lead to over-eating later.
The academy also recommended eating smaller portions. People could utilize a strategy such as using a smaller plate or filling the plate with veggies.
It also advised to keep moving after dinner.
Another thing to consider is how much alcohol is consumed.
When people eat, they should eat slowly and savor each bite.