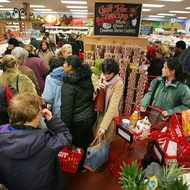 The top stressors for consumers during the holiday season are crowded stores and financial limitations, with long lines, out-of-stock items and online delivery delays also cited as stressful elements.
Consumers are interested in flexible payment options to deal with budget constraints, according to a Klarna survey that polled more than 1,100 U.S. consumers.
When it comes to purchase, 40 percent don't buy on a credit card, and, of the 21 percent that do use credit cards, the average expected time to pay off the purchases is 11 months. About a third of holiday credit card users say it will take a year or more to pay off in full, according to the release.
The study also noted that close to three-quarters (74 percent) of those that shop during the holidays have occasionally had to opt out of a holiday purchase or opt for a cheaper alternative due to their budget.