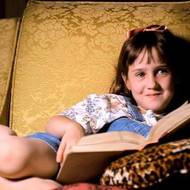 Hold onto your childhood because Netflix is about to rock it. The streaming service announced it's going to make new takes on Roald Dahl classics like Matilda, Charlie and the Chocolate Factory and The BFG.

"Our mission, which is purposefully lofty, is for as many children as possible around the world to experience the unique magic and positive message of Roald Dahl's stories," Felicity Dahl, Roald Dahl's widow, said in a statement. "This partnership with Netflix marks a significant move toward making that possible and is an incredibly exciting new chapter for the Roald Dahl Story Company. Roald would, I know, be thrilled."

The classic tales will be made into animated event series by the streaming giant.

Titles in development as part of the deal between Netflix and The Rolad Dahl Story Company include: Charlie and the Chocolate Factory, Matilda, The BFG, The Twits, Charlie and the Great Glass Elevator, George's Marvellous Medicine, Boy – Tales of Childhood, Going Solo, The Enormous Crocodile, The Giraffe and the Pelly and Me, Henry Sugar, Billy and the Minpins, The Magic Finger, Esio Trot, Dirty Beasts, and Rhyme Stew.

Production on the first animated series is set to begin in 2019.