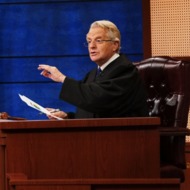 Former talk show host 
Jerry Springer
 is returning to daytime syndication and is reteaming with NBCUniversal TV Distribution for a foray into a new genre. 
Springer is set to take the gavel and the bench in Judge Jerry,
 a daily, first-run half-hour court program from 
NBCUniversal Television Distribution
. It 
will debut in national syndication in fall 2019.
Springer, who has a J.D. degree from Northwestern University and worked for two law firms before transitioning to politics and then television, hosted the long-running NBCU daytime confrontational talk show The Jerry Springer Show, which ended this summer after 27 seasons.
"Judge Jerry will merge Jerry's talent for connecting with people, his incredibly relatable and funny personality and his legal training and governing experience to bring viewers a more entertaining court show," said Tracie Wilson, EVP, Creative Affairs, NBCUniversal TV Distribution. "We are so happy to continue our fantastic partnership with Jerry, who is a proven TV icon with a dedicated and broad fan base."
Springer's self-titled daily talk show, which became a cultural phenomenon, featured scandalous stories and many people engaging in fisticuffs to the signature "Jerry! Jerry!" chant. Now, with Judge Jerry, Springer will be settling disputes in a new context. Judge Jerry will take on actual cases from real people. In each episode, Springer, as a Judge, will hear cases and render a verdict with a fair yet firm hand and always leave litigants with a dose of classic Springer wisdom. Whether or not it will be as scandalous and action-packed as his talk show — we'll just have to wait and see.
"For the first time in my life, I am going to be called honorable," said Springer. "My career is coming full circle and I finally get to put my law degree to use after all these years."