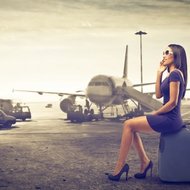 The success of your career depends on what you do on your off days, as well. Being a better professional starts with being a better person. The holiday period at year's end is a good time to not only reflect on the direction you are taking but also to take action and make it happen. Here are five things successful people do on Thanksgiving Day that can help you, too:
1. Be nice to fellow travelers.
Thanksgiving Day is one of the busiest travel days of the year. That means more people on the roads, in the airports and moving through rail and bus stations. When there are more people, their impatience tends to increase. You may have unexpectedly or unintentionally been rude to people in the past or experienced rude behavior. It is a disappointing way to start the holiday season.
Be kind. Be kind to yourself and others. Hold the door for others. Say "thank you." Pay for someone's coffee. Pay it forward.
And remember that you never know who you are going to meet. You might sit next to or interact with someone that could help your career. Traveling is a networking opportunity. Being nice can present unexpected opportunities.
2. Set aside work for the day.
Thanksgiving is just one day. Is it really that difficult to stay off of work e-mail and tasks for one day? Get your mind focused on different things, and refuel your brainpower so it is recharged when you return to work.
Also, not working on the holiday shows your colleagues that you are not at their beck and call. You can be a reliable employee and team player without being a doormat. Don't set up the expectation that you work all the time. Working behind the scenes can cause you to have more busywork dumped on you, which is not necessarily the kind of work that will provide you exposure and opportunities to advance.
3. Help out with the cooking.
Dig in with the cooking on Thanksgiving Day. Take advantage of your time in the kitchen with the family and friends. Cultivate and show that you are thankful for your relationships. This is the network that will be there with you for life.
4. Get fresh air.
Don't sit around all day. Don't let the big Thanksgiving meal tie you down. Get out of the house, and take a walk. Keep your body and mind active and fresh.
5. Focus on the bigger picture with hot topics.
People say to stay away from politics and religion over the dinner table. And in a particularly divided country at the moment, many people may agree. But ignoring things is rarely the best course of action.
If a person makes a polarizing statement, don't pounce on them if you disagree or ignore what they said. Be the one to put the issue in context and that allows people to see similarities and respect differences. Healthy conversations and relationships are built upon openness and respect.
Practicing managing sticky issues outside of work will help you to manage difficult situations at work. Don't be tempted to jump in and aggravate the situation or avoid it all together. Take advantage of the opportunity to show your leadership and vision by responding in a constructive way.
Your personal life is the foundation upon which you build your professional life. You can always be contributing to the success of your career, even when you are not at work.