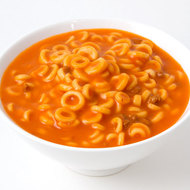 PITTSBURGH, PA – A Pittsburgh woman is facing several charges after allegedly throwing several cans of SpaghettiOs at a woman's vehicle in Pittsburgh's Terrace Village neighborhood.
The incident happened last month as the victim was expecting to meet with a man who was expected to provide money for their children.
The victim said when she approached the Allegheny Union Plaza building on Centre Avenue, a woman approached her and began throwing cans of SpaghettiOs at her vehicle.
The victim said as she tried to get out of her car the suspect tried stabbing her with a kitchen knife.
The victim was cut in the finger but managed to get away, somehow taking her attacker's purse with her.
Police said the victim's vehicle had a broken back window, multiple dents and was smeared with red sauce and pieces of pasta.
Paperwork inside the purse helped police identify the suspect as Eileen Gettleman, 59.
But police said they reviewed surveillance video which appeared to show several other people involved in the incident, including a man who was apparently also throwing cans of SpaghettiOs.
Police said they're working to identify any additional suspects.
Gettleman is charged with aggravated assault and criminal conspiracy.