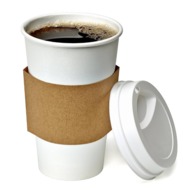 In addition to brightening our mornings and keeping us going all day long, coffee has been shown to have numerous health benefits: For one, its caffeine content is thought to improve alertness and memory in the short-term—but studies suggest that coffee may have long-term protective effects on the brain, as well.
Drinking coffee has previously been linked to a reduced risk of Alzheimer's and Parkinson's diseases, and now scientists say they may have an idea of why. It turns out that phenylindanes—chemical compounds that form during the brewing process —inhibit the growth of proteins associated with degenerative brain diseases. And the darker the roast, they say, the more of these protective compounds there are in every cup.
For the new study, published in Frontiers in Neuroscience, researchers at the Krembil Brain Institute in Toronto analyzed the chemical components of three different samples of Starbucks Via instant coffee: light roast, dark roast, and decaffeinated dark roast. Then they exposed extracts of each sample to two types of proteins—amyloid beta and tau—that are known to be hallmarks of Alzheimer's and Parkinson's. Studies have shown that as these conditions progress, these proteins tend to form clumps (known as amyloid plaques and tau protein tangles) in the brain.
All three coffee extracts prevented the "clumping" of these proteins, suggesting that something in America's favorite morning brew may be protective against the progression of disease. And because the researchers noticed no difference in the effectiveness of the regular versus decaf brews, they determined that it's likely not the caffeine that's providing these benefits.
They did, however, notice more inhibitory effects from the two dark roasts compared to the light roast. This led the researchers to think about phenylindanes—compounds formed from the breakdown of acids during coffee roasting, which are largely responsible for coffee's bitter taste.