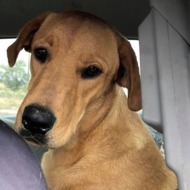 Sometimes man's best friend makes mistakes. Luckily, Charlie's aim needs some work.
According to the La Cruces Sun News, the 120-lb. Rottweiler mix accidentally shot his owner, Sonny "Tex" Gilligan, while the two were out on a hunting trip in a New Mexico desert on Oct. 25.
Gilligan told the Sun News that Charlie got his paw caught on the trigger of a shotgun in the back of the man's truck while the vehicle was parked, causing the loaded gun to go off.
"I leaned forward and he slipped off the seat and caught the trigger — and it shot," Gilligan said. "It was a freak accident but it's true, that's what happened."