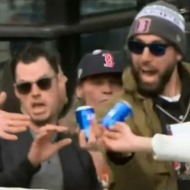 Get every Red Sox player a Gold Glove award … 'cause Boston fans let the beers fly through the air at the team's World Series parade  … and players caught and CHUGGED them — Gronk style!!
The BoSox made their way through Beantown on their duck boats on Wednesday to celebrate the team's 9th championship … and the fans showed their appreciation by chuckin' brews to players.
Guys like Blake Swihart, Matt Barnes, Craig Kimbrel and Rick Porcello snagged the cans out of mid-air … and you better believe they didn't let them go to waste.
This ain't nothin' new for fans in New England — Rob Gronkowski famously did the same thing (while wearing a Minions hat) when the Patriots won it all in 2015.
What else would you expect from the world champs??