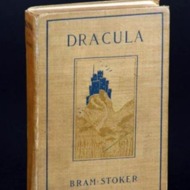 Back in the 1890s, somebody spent a lot of time in the London Library reading about werewolves and the supernatural. This person also committed a cardinal sin of library goers—he defaced the books with his own notes in the margins and folded down the corners of pages. But as the Londonist reports, the library is willing to forgive and forget in this case because they say the offender turns out to be none other than Bram Stoker, author of Dracula.
In a nifty bit of sleuthing, the library says it has found 26 volumes in its collection used by Stoker for his vampire research—meaning the actual books he used, not just the titles. For example, in one of the books, An Account of the Principalities of Wallachia and Moldavia, Stoker folded the corner of page 17 and wrote "Dracula" in the margin. He apparently used the travel book to help describe his character's castle.
"We can establish beyond reasonable doubt that numerous books still on our shelves are the very copies that he was using to help write and research his masterpiece," says a library official, per the Bookseller.
To figure all this out, a professor at Exeter University went through Stoker's previously published notes and outlines for the book. Then he cross-referenced those notes with old volumes still in the library—the Irish Stoker lived in London and had been member at the time—and discovered the defaced books.
One of them is The Book of Werewolves, and the scribbles in the margin notes closely gibe with details eventually used by Stoker in his own iconic book.
"I am in no doubt that Bram Stoker used these very copies for Dracula," says professor Nick Groom.