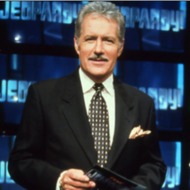 For the last 34 years — 54 if you count previous, non-Alex Trebek iterations — Jeopardy! has reigned as the thinking person's game show. The trivia program is so brainy it doesn't even air on the classic game show antenna channel Buzzr (though they do run Classic Concentration, also hosted by Trebek in the late '80s and early'90s). But its smartness is why it's one of few game shows 
that lives on Hulu
. And soon it will be one of the few game shows taking up bandwidth on Netflix.
As per The Hollywood Reporter, 45 episodes of the quiz great will be heading to the streaming giant starting this Tuesday. Those near-four dozen will be a subset of the 60 that dropped on Hulu this August. They're not current episodes, of course — which you can watch simply by turning on ABC, if you live in the northeast at least, most weeknights — but a greatest hits collection culled from the show's deep, deep archives: Tournament of Champion episodes, College Championships, Kids Weeks, some fan favorites.
They may not include the few episodes this fall in which Trebek, whose former mustache is at least as iconic as Tom Selleck's, showed up on set with a shocking beard.
Despite being synonymous with Jeopardy! for much of his career, Trebek is the second person to host the show. His predecessor was Art Fleming, who performed presenting duties when it was an NBC daytime show starting in 1964, before moving to nighttime duties in 1974. Jeopardy! was also off the air from 1975 to 1978 and then again from 1979 to 1984, meaning the general populace where probably a bit dumber during those periods.
Starting Tuesday, Netflix users have the option of endlessly rewatching Jeopardy! episodes and memorizing the answers/questions, just like Bill Murray in Groundhog Day. Once you've plowed through the 45episodes, feel free to stay on the streaming service and watch Season 8, Episode 14 of Cheers, in which know-it-all Cliff Clavin makes a disastrous appearance on Trebek's show.