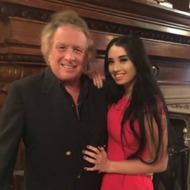 The "American Pie" singer, 73, and the Catfish alum, 24, both made their pairing official on social media recently, sharing photos of themselves during their trip to France.
"A dream with my love," Dylan tweeted a photo of the couple standing in front of the Eiffel Tower, along with a red heart emoji. In addition, the pair visited the Louvre Museum and Versailles.
Days before, Dylan, who has been traveling in Europe on tour with McLean, called her boyfriend the "love of my life."
The pair was first romantically linked in March when they were spotted out and about in the U.K. together for his spring tour. She first posted a photo of her and McLean on social media in November 2016 and has posted many additional images since, including a birthday message earlier this month. "Happy birthday my baby, my beauty, love of my life, my everything," she captioned a photo of herself sitting on McLean's lap.