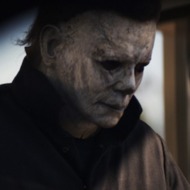 For 22 years, Wes Craven's Scream has ranked as the biggest slasher film of all time. Now, however, Ghostface's reign has come to an end thanks to the epic return of Michael Myers. David Gordon Green's Halloween just had its second strong weekend in a row, pushing its domestic total to $126.7 million, and that's more than enough for it now to be called the biggest hit the horror subgenre has ever seen.

Prior to 2018's Halloween, only two slasher films had successfully crossed the $100 million benchmark domestically, and those were both Scream and Scream 2. Beyond that, it's worth noting that no other title has even surpassed $90 million (with the closest being the $89.1 million made by Scream 3). The subgenre has always managed to persist thanks to the fact that stories can be told for very little money and still feature solid production values, but it's not really ever been about big blockbuster releases. Halloween is clearly proving to be an exception, as it's well on its way to become one of the biggest horror movies of all time.
Of course, what makes all of this a bit less surprising is the fact that we are in the midst of a huge horror boom. Halloween may be the latest title from the genre to make crazy money, and it stands somewhat apart because it's a slasher feature, but it is far from the scary film to rake in the cash in the last few years. Andres Muschietti's IT notably crushed records last year, ultimately making over $700 million worldwide, but even Blumhouse Productions – the company behind the new Halloween – is no stranger to new success, having made Get Out, which made a total of $255.4 million globally. Eventually we will see the whole thing reach a tipping point, and numbers will start settling down, but we can celebrate for now.