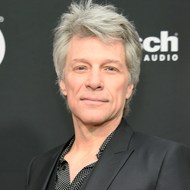 Jon Bon Jovi is clearly not who you'd call if you want to binge on reality TV. The "Livin' on a Prayer" singer dished on his feelings toward the current celebrity culture in an interview on Sunday, October 28, and didn't hold back.
"I think it's horrific that we live in that world and I can tell you I've never given 60 seconds of my life, ever, to one of those Housewives of Blah Blah and Kardashians," the 56-year-old singer told Australia's The Sunday Project.
"I don't know their names," the "It's My Life" crooner continued. "I've never watched 60 seconds of the show, it's not for me."
Bon Jovi went on to talk about Kim Kardashian's sex tape with singer Ray J, which was leaked in 2007.
"What's gonna be in your autobiography? 'I made a porno and guess what I got famous,'" the New Jersey native quipped. "F–k, sorry, I'll pass."
As for today's most popular celebrities, Bon Jovi took aim: "Go and write a book, paint a painting, act, study, sing, play write. Fame is a by-product of writing a good song."